Rotaflow have worked with ScanTech to improve their fire suppression system, PyroSentry.
PyroSentry was designed to support health and safety in the management of methanol, other flammable liquids and chemicals in offshore and marine environments. Being extremely flammable and having a flash point of only 11 degrees Celsius means tight management of the chemicals is critically important.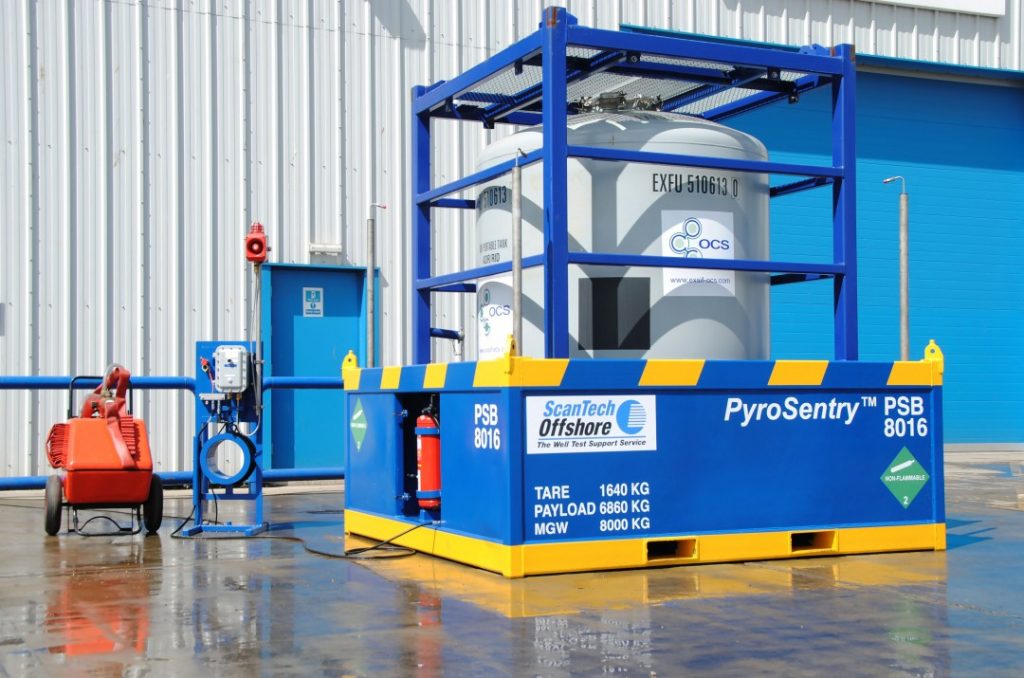 It goes without saying how dangerous these chemicals are and an appropriate disaster management system has to be in place. Thankfully, advances in engineering have allowed that to happen.
New engineering technologies enable fires to be managed in a variety of environments without unnecessarily endangering human life.
ScanTech submitted original drawings for their prototype fire suppression system. The design incorporated a folding arm system that allowed efficient movement of pipework for transport and storage. The system delivers a variety of fire-supression mediums to the fire site.
The Rotaflow PyroSentry Design
The in-house technical team at Rotaflow looked at the designs and identified ways of simplifying the system, whilst improving its capabilities. Although the original idea was fit for purpose, there were a few points that could be improved with a bespoke swivel joint design.
The swivel joint specialists at Rotaflow stripped back the plans and designed a brand new bespoke swivel joint, one that would require fewer individual parts, with fewer potential leak paths, significantly less welding, much simpler to manufacturing processes and easier long term maintenance.
These changes to the design lead to a much more straight forward manufacture, a reduced lead time and a more compact design for space saving.
Swivel Joint Design Improvements
Simplifying the design was welcomed by ScanTech, because the new swivel joint had fewer parts, significantly reduced length and could be folded away easily, meaning the PyroSentry device could be transported more effectively.
Lessons Learned from the ScanTech Partnership…
Simplicity wins….
Simplifying the design where possible generally always leads to reduced cost, fewer potential failure points, reduced manufacture time . A fire suppression system needs to be ready for action at all times – time spent being repaired could cost lives.
A simple design requires less maintenance and servicing. Fewer parts means there is less to go wrong, but also makes maintaining and servicing the product much easier.
Think beyond the obvious…
Rotaflow were tasked to help design a swivel joint that would allow pipework to move and fold. We improved the design so the Pipework could fold down more easily, improving the ease and speed with which the PyroSentry could be transported.
Trust specialists to do a job….
The original designs would have worked, but they were improved upon and the final product is likely to have cost less than the fabricated initial design, will last longer and was quicker to manufacture. The customer saved money and improved their product.
Technical Data for the Rotaflow PyroSentry Design
The swivel joints installed on the PyroSentry device were made from 316L Stainless Steel and contained PTFE seals to cope with a wide variety of fire suppression mediums.
To see how Rotaflow can help your project, get in touch via the following means…
Email: enquiries@rotaflow.com
Tel: +44(0) 1663 735003
Rotaflow FV Ltd
Rotec House
Bingswood Trading Estate
Whaley Bridge
High Peak
SK23 7LY