Rotaflow is a global leader in swivel joint design and manufacture. We engage with clients all over the globe to produce swivel joints for a wide range of industrial uses, from food and drink production, pharmaceutical, process & plant to subsea oil and gas extraction.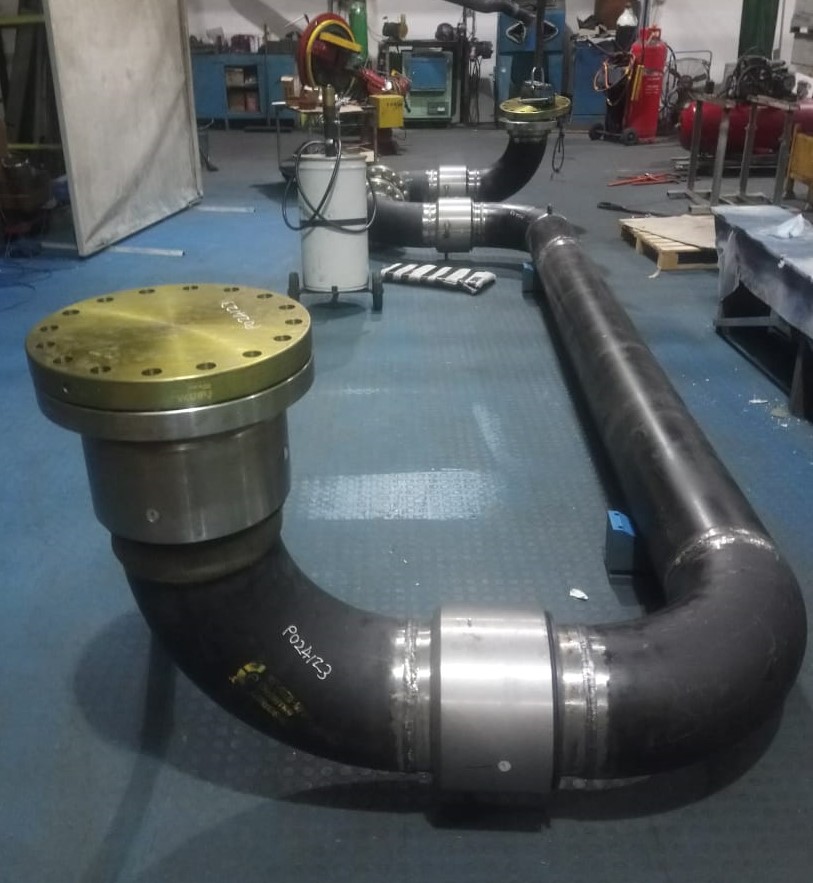 A large part of our business is in the custom building of swivel joints. When clients have specialist needs, or an off-the-shelf solution simply won't do, our in-house team of designers and engineers will produce swivel joints fit for specific purpose.
The custom designed and built articulated arm in this article is a testament to the design and manufacturing excellence we produce every day at Rotaflow.
Custom designed articulated arm making the workplace more efficient
One such custom design was for Amarinth Ltd, the global pump manufacturer. They had approached us with a problem that was going to require a custom solution, because off-the-shelf simply wouldn't work.
They asked us to design and build an articulated arm that will serve as a part of their pump testing equipment. The arm is designed to enable efficient connection to variously sized pumps. Our design ensures that the pump testing process is smooth and effective, saving a lot of wasted time for Amarinth and their customers.
Technical Aspects of the Articulated Arm
The articulated arm has 4 10″ Swivels to provide the range of articulation required. It has to cope with a lot of positional manipulation, so having 4 points of rotation make this possible.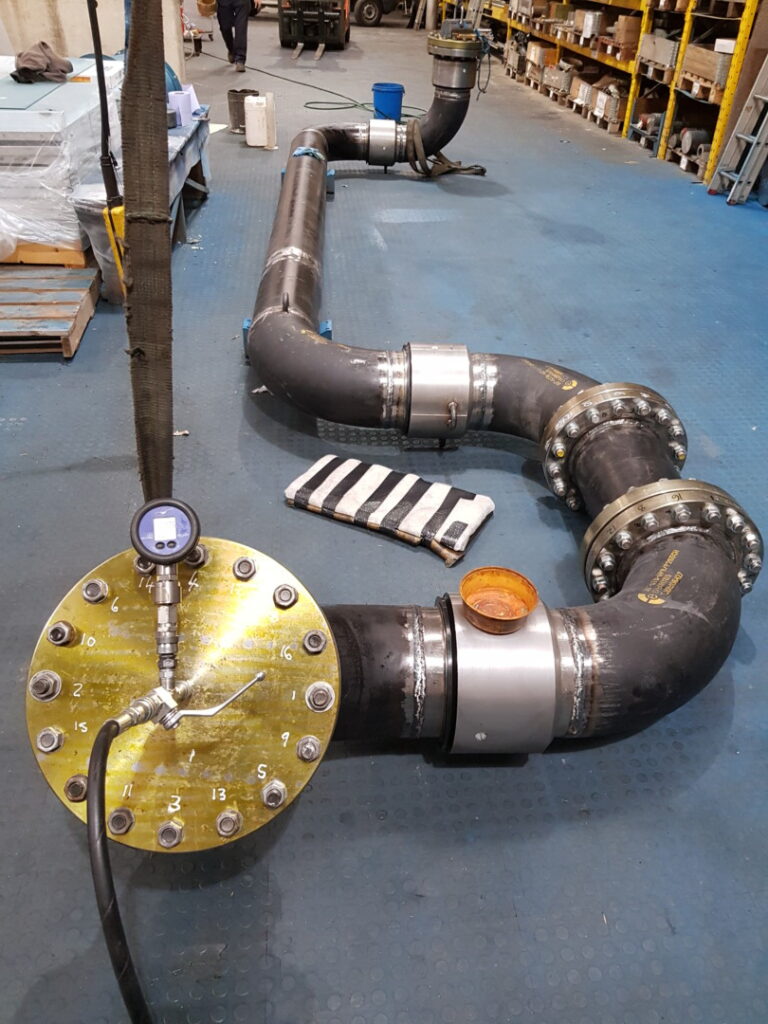 The articulated arm is designed for operation 50 Bar. At Rotaflow we have the capability to pressure test every joint we produce even in our custom-built hyperbaric testing chamber if the application requires. We have tested the arm at Rotaflow to 75 Bar, so can be satisfied it is more than able to cope with the tasks set for it.
By testing in-house we can adapt designs based on data and can be confident that everything we send out of the door is absolutely fit for purpose and certified as so. It also reduces our lead times on equipment – all of our designing, manufacturing and testing is done in-house, so we don't have to factor in long delays as products are sent off site for testing.
The dynamic sealing surfaces have been overlaid with Stainless Steel to provide corrosion protection to the most important sealing surfaces. We have our own multi-stage method of overlaying stainless steel that has been developed over many years. It's a process that means we can be very confident about the level of corrosion resistance the sealing surfaces have.
This design allows for the use of lower cost Carbon Steel for the rest of the structure without compromising build quality. This approach provides strength and structural integrity where it is needed most.
Lifting lugs were provided at positions as required by the customer. The custom design process means that we can adapt our products to suit the exact requirements of the client. We produce equipment for a huge range of spaces and conditions, so our designers have a lot of experience in this area.
The final connection flange is a 'Lap Joint Flange' which allows the final connection to the pump to be orientated as required. This is a particularly important detail because it's the final connection between the arm and the pump. It has to be sufficiently secure, easy to connect and disconnect and able to move wherever the testing dictates. The arm is PED cat I certified.
In order for the unit to be despatched in the most customer friendly fashion we organised specific same day despatching as this removed any issues faced with dealing with the somewhat awkward size and shape of this bespoke unit.
Rotaflow Quality Speaks for Itself
As a global supplier of swivel joints, Rotaflow have built a reputation for excellence. Our in-house team manage the job from end to end, so we do the design, manufacturing, testing and shipping. This streamlined operation removes all unnecessary costs and time delays from the process, making working with Rotaflow a faster and often less costly experience.
With 4 decades of experience and a global reputation for excellence, working with Rotaflow will guarantee your project is in the safest possible hands. From consultation to shipping, we're experts in project delivery.
The articulated arm we designed and built is an example of the kind of work we do across a wide range of industries in every corner of the globe.
Working with Rotaflow
If you have an engineering problem and would like to speak to the team at Rotaflow, you can reach us via the following options…
Phone: 01663 735003
Email: websales@rotaflow.com