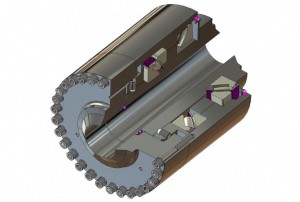 High Pressure Swivel Joints for applications up to 1379 Bar (20,000 PSI).
Spherical Roller Thrust Bearing with capacity or all load requirements.
To ISO 13628 (API 17D) and ISO 10423 (API 6A) as required. DNV/ABS reviewed by application.
Sub sea applications beyond 3000m depth.
Inconel construction or overlay-ed carbon steel as required. Duplex and high strength steels and corrosion resistant alloys as required.
Supplied with API Flanges or Hubs, Grayloc®\Techlok® Hubs, Hammer Lug Unions, Compact Flanges and others as required.
Smaller swivels available with threaded connections as appropriate.
Please email your exact requirements using our excel sheet or send your details below and we'll contact you.
High Pressure Swivels – Tech spec 153
Grayloc® is a registered trademark of Oceaneering International, Inc.
Techlok® is a registered trademark of Freudenberg Oil & Gas Technologies.
Please enquire below, comments or questions are welcome.