Normally supplied with flanged fittings these larger swivel joints can be made from a range of materials with the option of welded overlay material on the seal and bearing surfaces to keep costs low.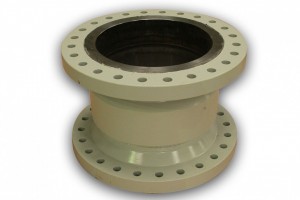 The large bore range is normally manufactured in either carbon steel or stainless steel, although more exotic materials or a hardening service is available.
Due to the size of the swivel joints it is possible to weld overlay different metals onto the seal and/or bearing surfaces. A common example of this would be stainless steel weld overlay onto a parent carbon steel swivel body. This keeps the overall cost to the end user down while increasing the swivel joints serviceable life.
This range of swivel joints come with a PTFE seal and a lithium based grease as standard although other seal and grease types are readily available to meet your requirements including high or low temperature, Oxygen duty, Radioactive duty, submergible, hygienic environments and sealed for life.
Please enquire below, comments or questions are welcome.